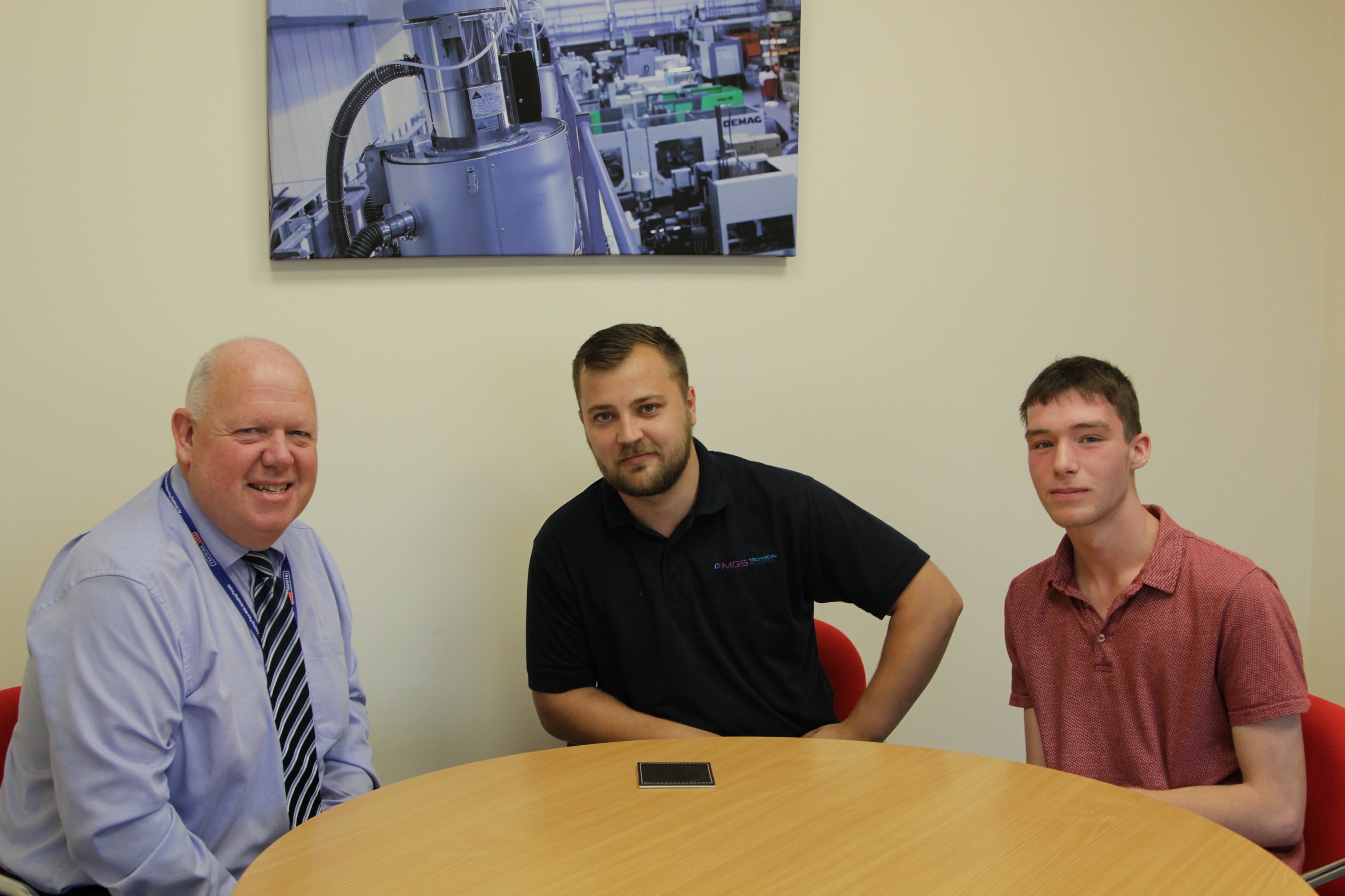 Blackburn-based MGS Technical Plastics is investing in the future with the appointment of three new apprentices. Manufacturing director Neil Garrity says that training young adults is not only essential for the UK to continue its manufacturing excellence, but that MGS's apprenticeship programme has paid for itself ten times over.
The three apprentices at the injection moulding specialist are: Steven Hyde, toolroom trainee; Dillon Tennant, electrician apprentice; and Michael Critchley, trainee technician. As well as learning their job by getting hands-on at MGS, Steven and Dillon will also study for Level 3 Diplomas in Advanced Manufacturing Engineering with the College of West Anglia, which offers specialist injection moulding machine related courses, in partnership with Training 2000, based in MGS's hometown. Michael will soon begin onsite training with Solution 4 Polymers in partnership with the College of West Anglia.
The new trio takes the number of apprentices trained by MGS to six in the last five years, as the growing company aims to reach £10m annual turnover. Following a multimillion relocation to its current headquarters in the last decade, the firm has invested an additional £2m on property, machinery, staff and training.
Neil Garrity said: "Apprenticeships have proven to be very valuable to the individual, us as an employer, and the manufacturing industry as a whole. It is a great way to find and develop the fresh talent that our sector so badly needs."
Neil says that a lack of companies offering apprenticeships over the last two decades has left the UK short on skilled workers, which could eventually hurt the country's position as a world-leader in the field. And he says there is a very strong business case for employers to make the most of apprenticeship schemes.
Neil added: "There is always the risk that you train an individual who then goes on to work for another business, but despite that our apprenticeship programme has paid for itself ten times over. "Businesses that don't take on apprentices are the dinosaurs of the sector and are hurting their own prospects as well as the industry as a whole."
"Apprenticeships are also a great proposition for our trainees," he said. "We give individuals a chance to shine, and the ones who show initiative get plenty of opportunities to develop their careers."